We can't pull off CelticFest Mississippi on the Rez without help in several areas like the Merchandise Tent, Ticket Gate, Beer Tenders, Parking Lot & Highland Games Helpers or work the Set Up or the Tear Down.
All volunteers will receive a Fest T-Shirt and Free entry to the Festival anytime before or after your shift. You will receive a wristband to come and go all weekend.
Shifts are just three hours. Ages 15 +(or 21 for the Beer Trailers).
We'll be using Square Readers to take credit card payments. Training will be provided. It's very easy to learn. Download the Square Point of Sale app from your App Store.
We are a 501(c)3 non-profit organization so if you're a high school or college student in need of community service hours, CelticFest will be a seriously fun place to get them!
Click the SignUp Genius link to join the team!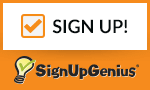 THANK YOU!!
Send an email if you have any questions-
celticfestms@gmail.com